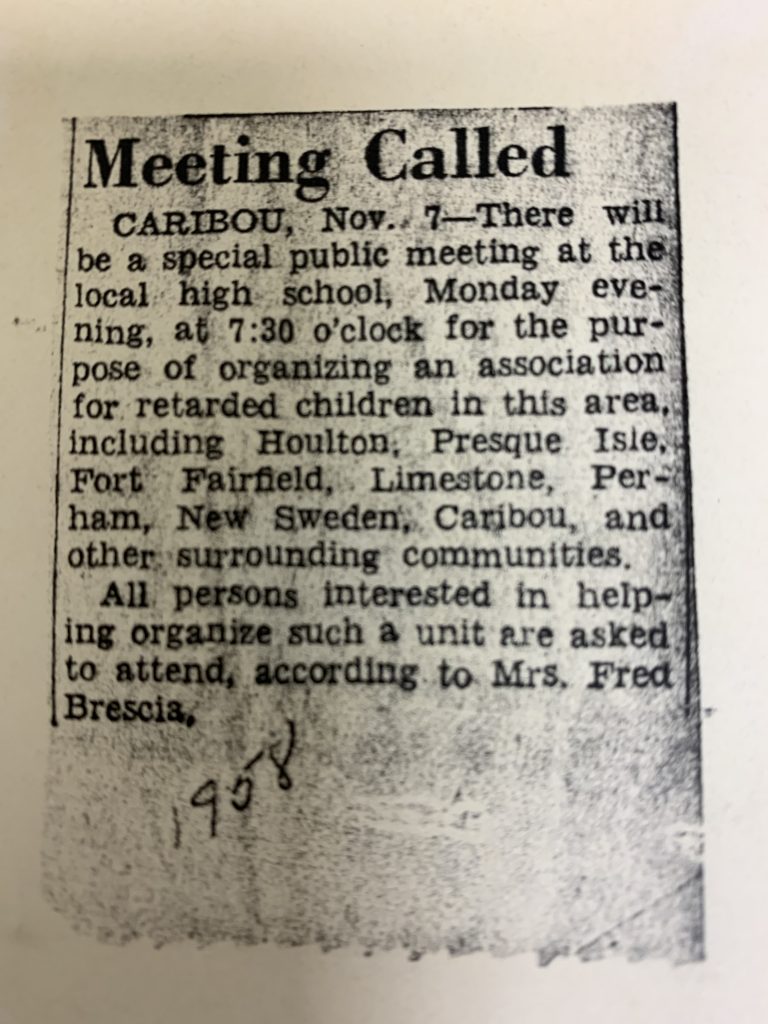 The association began its journey in 1959, when a group of parents who wanted programming for their children with developmental disabilities placed an ad in the local papers. This group formed a small association, which held their first classes in the basement of St. Luke's Parish Hall, Caribou, ME. As the association grew and needed more space, they moved into the Knight Building in Presque Isle, ME. Later in 1967, a federal grant was received to build the first school building in the state for students with developmental disabilities in Presque Isle, Maine, which became Opportunity Training Center, now known as OTC (a special purpose private school), and still serves as an association program.
In 1971, the Aroostook Residential Center was constructed, which the association did not operate but was instrumental in promoting its construction. In 1972, the association developed day programming for adults, which included programs that taught both fundamental practical life skills as well as work-related skills. An actual work program was developed for those who had the skills to perform those functions. At this time, the association rented a building at Skyway Industrial Park for the work program. When the Residential Center closed its doors in 2004, the Association then decided to open its first waiver home. Currently there are six residential waiver homes in operation.
Shortly thereafter, Shared Living was introduced as another residential option. Shared Living allows adults with developmental disabilities to live with a family in the community. Two businesses were soon developed: Aroostook Shredding, a confidential shredding business and County Box & Pallet, which builds and refurbishes wooden pallets. Aroostook Shredding was sold in September of 2013, County Box & Pallet employed over 20 individuals with development disabilities and closed in 2019.
The association offers Home & Community Supports for adults, Community Case Management (for approximately 100 individuals) and Children Supports, which is the association's newest program. Central Aroostook Association is governed by a Board of Directors, maintaining a 51% membership of parents or siblings of those who attend the association, with 49% consisting of the business community. The association is very proud that it has been able to support persons with developmental disabilities for over fifty years. It continues to look to the future to see what other additional resources might help individuals and their families.